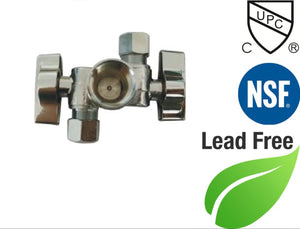 EZ-Fluid 1/2″ FIP X 3/8″ O.D. Comp. X 1/4″O.D. Comp. Chrome Plated Dual Handle Angle Stop Valve, 1/4-Turn Lead Free
1/2″ FIP X 3/8″ O.D. Comp. X 1/4″O.D. Comp. Chrome Plated Dual Handle Angle Stop Valve, 1/4-Turn Lead Free
EZ-FLUID Brass Angle Stop Series
1/2″ FIP  x 3/8″ O.D. Comp. x 1/4″O.D. Comp. Dual Handle Angle Stop Valve controls water flow to household plumbing fixtures. With 1/4 turn, you are able to stop the flow of water ,Also allowing for maintenance and repair without turning off water to the entire Buliding.
EZ-FLUID Brass Angle Stop Series Has

NSF

and 

UPC 

Approvals Certifications.